Good year ! Happy New Year! Yes, it was already last week that we celebrated the transition to this new year with family, with friends or alone. Many of you thanked us for our advice on hairstyles to wear for the end of the year, THANK YOU! ❤️
We're going to offer you lots of others!
Today, we continue the "big loop" with a new subject: hydration vs nutrition.
We're starting January with a little explanation, just to ensure that you take care of your hair even more effectively this year! No more questions possible after reading this new and magnificent article. We like to send each other a few little flowers on this last day of the week #selflove.
So there you have it, we all know that our hair needs hydration. We often think that hydration equals nutrition but...it's FALSE! But then, what is the difference between hydration and nutrition? How to find your way there? Are you lost? We understand you.
No worries, in this article we guide you to make the difference and adapt your hair routine to your hair type. Come on, let's get started.
First of all, back to school. Get out a notebook, a pen, a cup of detox tea (yes we drank tea at school, at least in mine). "Definition of hydration and nutrition please?"
Nutrition
includes a contribution of fatty substances.
The latter makes the hair stronger and more resistant.
Hydration
brings water to the hair fiber. Thanks to this, the hair is supple, soft and shiny.
Nutrition, from A to Z:
What is nutrition?
It consists of nourishing your hair from the inside. This involves providing lipids aka "fatty substances", which partly make up the hair cuticle. They play a super important role in the beauty and health of hair. It's a bit like what if you wanted beautiful hair without our food supplements. One does not go without the other.
Lipids are involved in hair structure, reconstruction and protection . Components of the hydrolipidic film , they also seal in hydration . They are naturally present in the hair but they can be weakened by external aggressions. For example,
stains
or discolorations or chemicals.
Basically, a proper hair routine is one that provides
adequate nutrition that can restore natural lipids .
How to repair this undernourished hair fiber?
Your hair is lacking nutrients, sebum and fatty substances. These gaps make your hair dry, brittle, dull and split ends. Not a crazy assessment, you tell me? To thoroughly repair the hair fiber , we recommend
Resolution No. 6 My Nutritive Mask
. Our treatment is three actions to strengthen the hair fiber , nourish and moisturize your hair . Still a doubt? He received the
2022-2023 Victoire de la Beauté prize
. One more price for our products, after
Resolution n°1 and Resolution n°4 Elixir Booster.
Special mention for the curly team ?‍? : Be careful,
undernutrition is a recurring problem among curly, frizzy or frizzy hair. Do we have to give them twice as much love?
Note for the straight hair team: You may also be subject to malnutrition. Indeed, when you use too much heat or when you stretch your lengths too much, it's a disaster! The key word is
DO CARE.
Provide care yes, but
GOOD
CARE
. Speaking of good care, we have a whole flop here .
Tips for deeply nourishing your hair:
Remember to promote intense nourishing care that penetrates the fiber and acts deeply.


A nourishing mask based on natural, chemical-free ingredients

(no parabens, sulfates or silicones),

to be used 1 to 2 times a week. Regarding the exposure time? Once again don't panic Queen, it is indicated on the bottle according to your hair type. ?




You can also make your own homemade nourishing mask with ingredients from your kitchen. For example based on vegetable oils, honey or even

shea butter

. These are excellent sources of fat! #Weloveit?






An oil bath:

more intense than the nourishing mask

, it is generally done once a month for straight hair. For the curly team, it is done approximately every two weeks. You can also apply it to your roots.



You don't know what an oil bath is?
This consists of applying one or more vegetable oils to the entire hair. New little
tip from the Madam President team
?‍♀️: we advise you to use several vegetable oils and a scarf. The scarf will promote blood circulation to your scalp and ultimately make them grow. For oils, here are our little favorites: castor, argan, olive or jojoba oil which are particularly nourishing. ?
And the exposure time then? Leave your oil bath on for several hours or overnight. (Be careful with your pillowcase because the oils can stain).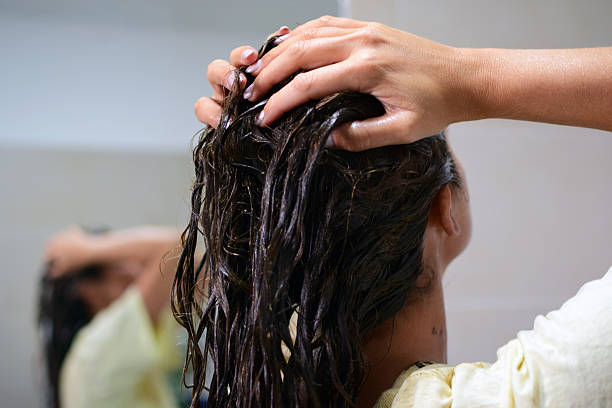 Hydration:
Hydration?
depends on an adequate water supply. Thanks to hydration, hair remains soft, supple, shiny and bouncy. Therefore, it is particularly important to moisturize your hair every day
, regardless of your hair type. For the curly hair team, we have the perfect product to make it easier to define your curls. Do you see me coming?
My Curl Definer
, one of our bestsellers, will allow you to have curls so beautiful, so bouncy and so defined, that all your friends will be jealous.
Hydration also plays a crucial role in the health of your hair:
It allows you to have elastic and supple hair.
A little extra info? Hydration is also a guarantee of good hair growth,
water ensuring the supply of nutrients to the hair follicles via the blood vessels of the scalp . This
prevents the fibers from drying out and breaking . It makes hair easier to style and/or defines curls
Hair lacking hydration has a vital need for water to regain its pep!
They are called "porous" because the scales are open and do not retain moisture properly. This causes the water to evaporate too quickly. This phenomenon is responsible for dry, dull and fragile hair. They are often rough, electric, have tangles and frizz. Do you want to learn more about hair porosity? See our article:
Porosity, can we talk about it for 2 minutes?
for a complete overview on the subject.
How to naturally moisturize your hair?
The easiest way is to moisturize your hair with spring water that you spray regularly throughout your hair. Pssst, we have the Psshiit you need. Psshiit is the name of our spray , to give you the daily boost of shine and refreshment that your hair needs.
You can accompany your little boost of refreshment by adding
natural moisturizing agents such as aloe vera gel to your water. Very rich in water, it has the ability to retain moisture within the hair fiber .
We also recommend these ingredients to moisturize your hair:


Floral waters : cornflower, lavender, witch hazel,

sage

, etc. You can find them almost everywhere: in supermarkets or in your organic store near you. They will be perfect for gently hydrating your hair!






Rinsing water: a little tip from

Madame La Présidente

, a rinsing water based on our My

Organic Resolution No. 2 detox tea

.

Our

tea is organic

and is made from a clever blend of plants: green tea, goji berries, peppermint, ginger, turmeric, rose petals and finally elderflowers. In addition to its pleasant taste, it is the first tea in the world to take care of your hair. The FIRST in the WORLD! It promotes blood circulation to the scalp , softens and deeply hydrates the hair. All this in one tea we LOVE it! ❤️‍?



And that's it, it's already the end BUT we'll be back next week with lots of tips and advice of all kinds.
In any case, you can now share this article with your loved ones who need information on the subject. Maybe you'll come across this question during a Trivial Pursuit this month. Since the 2000s are back, you can bring out the game for your next dinner with friends.
To follow all the news from Madam President , it's happening on our social networks Instagram , Tik Tok , Facebook and Pinterest .