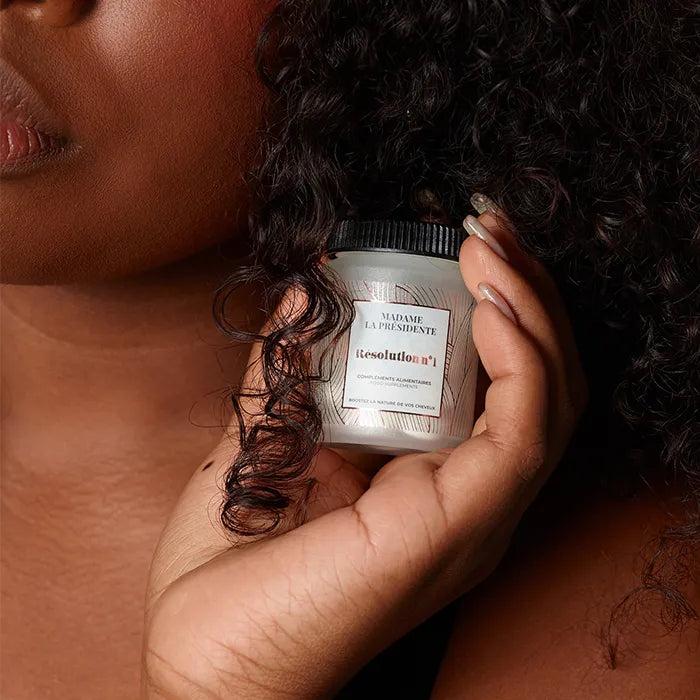 ---
Our satin scrunchie is the ideal accessory to preserve the health of your hair.

It prevents friction of the scales and weakening of the hair.
The combination of Madam President's first two treatments to stop hair loss, stimulate growth and cleanse the scalp.

Perfect for discovering our products and learning how to set up your hair "routine".

Suitable for all hair types and including:




Resolution no. 1 - anti-hair loss and growth food supplement - 1 month

Resolution n°2 - My organic hair detox tea - hair tea - 28 days




Resolution No. 1, the most complete hair food supplement strengthens hair, stimulates growth, stops hair loss, makes hair healthier and less brittle.




Resolution no. 2, My organic hair detox tea cleanses the hair, purifies the scalp, fights hair loss, eliminates dandruff.
Ingredients and nutritional values

Resolution No. 1
Resolution No. 2
STEP 1
Start the treatment Resolution No. 1, 1 tablet per day with a meal.

2ND STEP
Use in rinsing water, in an oily macerate or drink in a hot or cold drink, Resolution n°2 My Organic Hair Detox Tea, ideally 3 times a week.
Washing instructions: Wash at 30°C. Do not tumble dry. It is recommended to wash them in a small protective bag and with similar colors.
Clinical study results
affirming that Resolution No. 1:
Strengthen the hair
Brings vitality to hair
Makes hair healthier
Gives tone to the hair
affirment que Résolution N°1 :
Donne du volume au cheveu
Rend le cheveu plus brillant
Rend le cheveu plus volumineux
affirment que Résolution N°1 :
Réduit la chute
Rend le cheveu moins cassant
Apporte de la croissance
Rend le cheveu plus résistant

Made in France
Secure payment
Responsible approach
Quick delivery
Avis client
Résolution n°1 est vraiment très efficace pour le volume, la repousse et la qualité des cheveux. déjà 2 ans que je fais régulièrement une cure. Après un traitement hormonal qui m'a fait perdre beaucoup de cheveux je retrouve ma chevelure d'avant 👍
J'ai acheté la résolution n°1 pour le troisième mois consécutif et il est top. C'est la première fois que je vois un complément aussi efficace et les résultats sont vraiment bien visibles. Les cheveux sont plus fort plus long et brillent. De même pour les ongles qui sont renforcés.

Résultats dès le 1er mois ! Je me suis enfin lancé suite à une chute capillaire importante.J'ai débuté avec le Résolution N°1 (cure de 3 mois), j'ai pu constater qu'au bout d'un mois je ne perdais plus mes cheveux.
Beauty victory 2022-2023
Resolution n°6 My nutri-active mask is a 3in1 treatment .
Winner of the Victoires de la Beauté in 2023, it nourishes, hydrates and strengthens the hair, from roots to ends . Without sulfates, parabens or silicones, its natural composition and formulation adapt to all hair types.
SOS hair in distress? Here is THE mask you need!