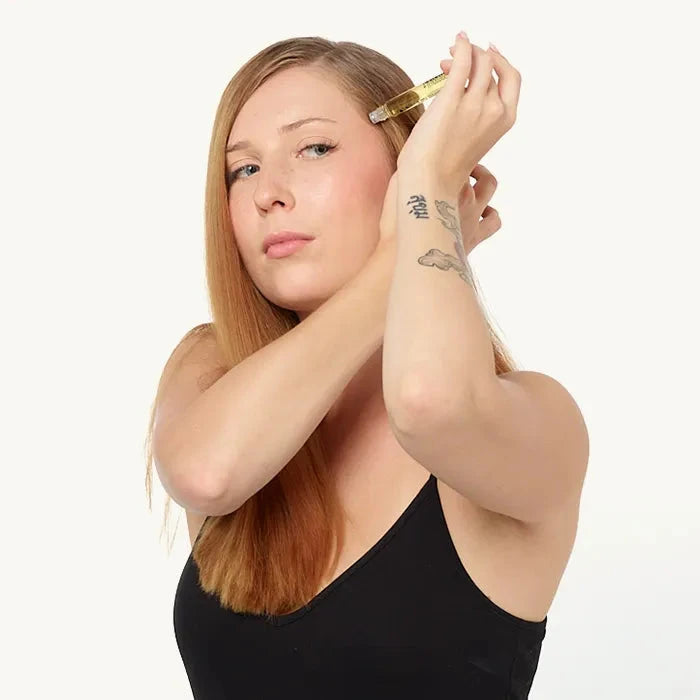 ---
Resolution n°4 Elixir Booster is the roll-on to promote the growth of sparse areas, localized holes and baby hairs. Its unique and natural composition and its clinically proven formulation adapt to all hair types. After a few weeks, the growth is visible.
Thanks to its composition and mainly Capillum Fortis, Resolution n°4 Elixir Booster anchors the hair bulb, promotes growth, influences blood micro-circulation and provides more density to the hair .

Suitable for all hair types (even eyebrows and beards 😉), its practical format allows precise targeting of the areas to be treated.
Ingredients and nutritional values
Use twice a day in the morning and evening for 8 weeks. Apply the roll-on in circular movements to the scalp, paying particular attention to the temples (baby hair) or sparse areas: holes in the scalp, holes in the beard, eyebrows, etc. Do not rinse.
EXTERNAL USE ONLY. In case of contact with eyes, rinse immediately and thoroughly. Keep out of reach of children.
INGREDIENTS : AQUA (WATER), GLYCERIN, INULIN, CAPRYLYL / CAPRYL GLUCOSIDE, XYLITYLGLUCOSIDE, YEAST EXTRACT, CASSIA ALATA LEAF EXTRACT, KIGELIA AFRICANA FRUIT EXTRACT SODIUM HYALURONATE, ANHYDROXYLITOL, PARFUM (FRAGRANCE), HYDROXYETHYLCELLULOSE, XYLITOL, SODIUM BENZOATE, GINKGO BILOBA LEAF EXTRACT, EUTERPE OLERACEA FRUIT OIL SODIUM HYDROXIDE, SALVIA SCLAREA (CLARY) EXTRACT, CINNAMOMUM ZEYLANICUM BARK EXTRACT, CITRID ACID, MALTODEXTRIN, FRUCTOSE, POTASSIUM SORBATE, SODIUM PHYTATE, TOCOPHEROL.
Clinical study results
affirment que Résolution n°4 :
Est facile à appliquer
affirment que Résolution n°4 :
Rend le cheveu plus fort
affirment que Résolution n°4 :
Apporte de la croissance
C'est le début du traitement, massez et ciblez au mieux les zones à traiter
Les actifs sont efficaces, la chute est ralentie et la repousse est engagée au niveau des bulbes.
Les cheveux (re) poussent, il y a plus de densité 💪
Made in France
Secure payment
Responsible approach
Quick delivery
Quels sont les résultats Résolution N°4 ?

En quelques semaines vos cheveux seront plus denses, plus forts, plus résistants et la chute sera ralentie. Vous remarquerez une plus grande densité de cheveux.
Combien de temps dure un flacon de Résolution N°4 ?

Entre 6 à 8 semaines en fonction de votre utilisation et des zones ciblées.
Quelle est la différence entre Résolution N°4 et Résolution N°3 ?

Résolution N°4 Elixir Booster est un roll-on qui active la micro-circulation sanguine du cuir chevelu et favorise la pousse des zones clairsemées. Il est très pratique pour insister sur les baby hair, les sourcils et pour les hommes, les trous de la barbe. Le sérum Résolution N°3 est un sérum anti chute et fortifiant conçu pour ancrer le bulbe capillaire dans le cuir chevelu, augmenter le volume et la densité des cheveux. C'est un traitement anti-chute à appliquer sur l'ensemble du cuir chevelu.
Puis-je l'utiliser cette Résolution enceinte ?

Résolution N°3 n'est pas compatible avec la grossesse 😥. Notre complexe exclusif Capillum Fortis contient des extraits de la cannelle, exclue d'un régime de grossesse.
Avis client
L'odeur est juste à tomber à la renverse. Mes cheveux au niveau des tempes ont repousser et j'ai remarqué de nouveaux cheveux je suis agréablement surprise. Les produits sont très bons pour la pousse des cheveux. Je recommande vivement à toutes les personnes ayant des alopécies de tractions.
Commence depuis 1 mois je vois déjà les résultats. Les babys hairs repoussent et ma chute s'atténue considérablement.
Très bon produit facile à appliqué je recommande. Je l'utilise aussi pour combler des petits trous sur mes sourcils et sur mes cheveux bien sur.
Beauty victory 2022-2023
Resolution n°6 My nutri-active mask is a 3in1 treatment .
Winner of the Victoires de la Beauté in 2023, it nourishes, hydrates and strengthens the hair, from roots to ends . Without sulfates, parabens or silicones, its natural composition and formulation adapt to all hair types.
SOS hair in distress? Here is THE mask you need!