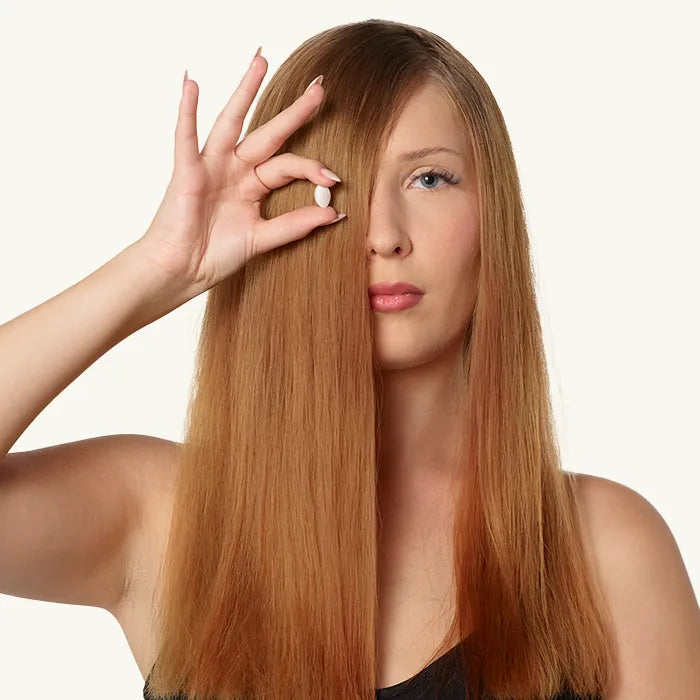 ---
Resolution No. 1, it is the most complete hair food supplement on the market and twice winner of the Victoires de la Beauté!
A natural composition for clinically proven effectiveness. 18 vitamins, minerals and plants to stop hair loss, promote hair growth, strengthen hair and nails.
Formulated in the laboratory, Resolution n°1 contains a vitamin B complex, stinging nettle leaf extract, MSM (Methyl Sulphonyl Methane) and marine collagen.


Thanks to its composition, Madam President's Resolution No. 1: strengthens hair, stimulates growth, stops hair loss, makes hair healthier and less brittle.


Suitable for all hair types (straight, wavy, curly, frizzy, frizzy), it is the food supplement you need to boost growth and strengthen hair.
Ingredients and nutritional values

Main assets:

MSM (Methyl Sulphonyl Methane) contains sulfur which participates in the synthesis of keratin, which gives elasticity and resistance to the hair fiber

Marine collagen: rich in specific amino acids: glycine and proline, it maintains the quality and promotes hair growth

Stinging nettle leaf extract: fights against hair loss, regulates sebum production, anti-dandruff action

(one tablet): Mineral: Calcium carbonate 176 mg (22% VNR), Stinging Nettle leaf extract (Urtica dioica) 600 mg EPS, Bulking agents: microcrystalline cellulose, Vitamin C 80mg (100% VNR), Coating (Hydroxypropymethylcellulose Microcrystalline cellulose, magnesium stearate), Selenium yeast 55 ug (100% VNR), Vitamin B5 18 mg (300% VNR), Methyl sulphonyl methane (MSM) 20 mg, Fish collagen hydrolyzate 20 mg, Vitamins: B3 16 mg (100% NRV), A 800 ug ER (100% NRV), D 10 ug (200% NRV), B1 3.3 mg (300% NRV), B2 4.2 mg (300% NRV), B6 2 mg (143% NRV), B8 150 ug (300% NRV), B9 200 ug (100% NRV), B12 2.5 ug (100% NRV), Horsetail extract (Equisetum arvense) 30 mg EPS , Anti-caking agent: magnesium stearate. VNR = nutritional reference value EPS = dry plant equivalent.
One tablet every day with a large glass of water, in the middle of a meal. In order to obtain maximum results, we recommend that you take our Resolution N°1 food supplements as a course of 3 to 6 months, to be repeated according to your needs during the year.
The Resolution N°1 food supplement should be taken as part of a varied and balanced diet and a healthy lifestyle. Do not exceed the recommended doses and respect the dosage. Store out of the reach of children and in its packaging away from light, heat and humidity in order to preserve all the benefits. Resolution No. 1 is not suitable for children under 15 without medical advice. Suitable for pregnant and breastfeeding women, under medical advice.
Clinical study results
affirming that Resolution No. 1:
Strengthen the hair
Brings vitality to hair
Makes hair healthier
Gives tone to the hair
affirment que Résolution N°1 :
Réduit la chute
Rend le cheveu moins cassant
Apporte de la croissance
Rend le cheveu plus résistant

affirment que Résolution N°1 :
Donne du volume au cheveu
Rend le cheveu plus brillant
Rend le cheveu plus volumineux
Les effets de la cure
Jour 1
C'est le début de la cure, tes cheveux sont cassants, ils tombent et sont fragiles 😢
Les effets de la cure
1 mois
Le cuir chevelu est stimulé, les nutriments arrivent au bulbe capillaire, les cheveux sont visiblement plus forts 💪
Les effets de la cure
3 mois
Les résultats sont visibles, vos cheveux ont bien poussé, poussent en meilleure santé et sont plus résistants. Continuez jusqu'à 6 mois de cure pour des résultats juste 🤩🤩
Made in France
Secure payment
Responsible approach
Quick delivery
Est-ce que je peux prendre Résolution N°1 et Hairboost en même temps ?

Non, nous ne recommandons pas de les prendre en même temps pour éviter le risque de surdosage en vitamines qui peut s'avérer dangereux pour votre santé. Cependant vous pouvez alterner une cure de Résolution N°1 avec une cure de Hairboost.
Je suis enceinte, puis-je prendre Résolution N°1 ?

Enceinte, nous vous conseillons nos gummies Mama, spécialement conçus pour les femmes enceintes et/ou allaitantes.Si vous ne souhaitez pas prendre de gummies, vous pouvez prendre Résolution n°1 sur avis médical.
Est-ce que mes poils vont pousser avec une cure de Résolution N°1 ?

Non, nos compléments alimentaires contiennent des nutriments reconnus pour leurs effets sur la pousse des cheveux et des ongles. La pousse et la répartition des poils du corps se font par stimulation hormonale, or nos compléments alimentaires ne contiennent pas d'hormones.
Pendant combien de temps dois-je faire une cure de Résolution N°1 ?

Nous conseillons de faire 3 mois de cure pour un effet optimal. Elle pourra être renouvelée mais prévoyez une pause d'1 mois toutes les 6 mois. Les premiers effets visibles seront sur les ongles puis sur vos cheveux dès les premières semaines. Toutefois, les effets varient d'une personne à une autre ! La régularité et la patience sont la clé pour une cure réussie.
Quelle est la différence entre Résolution N°1 et Hairboost ?

Résolution N°1 est LE compléments alimentaires le plus complet sur le marché ! Il a une action globale et anti-chute, il apporte pousse, force, vitalité et longueur. Il ne contient pas de sucre et ne nécessite qu'un comprimé par jour. Hairboost un complément alimentaire sous forme de bonbons au bon goût fraise / framboise. Il se concentre sur la bonne santé et la pousse du cheveu. Il renforce la fibre capillaire et donne brillance aux cheveux.
Combien de comprimés dois-je prendre par jour ?

1 seul comprimé par jour vous apporte l'ensemble des actifs et nutriments nécessaire à la cure ! Il est inutile d'augmenter cette posologie car votre corps ne sera pas capable d'assimiler de telles quantités et vous risquez un sur dosage. La cure idéale est 1 comprimé par jours pendant 3 mois, renouvelable 1 fois. Une pause thérapeutique d'un mois sera alors recommandée.
Avis client
Je suis pleinement satisfaite de ma cure 3 mois de Résolution n°1. J'ai une pousse capillaire normal mais grâce au complément, je suis bluffée car ils ont poussé plus rapidement et pris du volume en très peu de temps.
J'ai acheté la résolution n°1 pour le troisième mois consécutif et il est top. C'est la première fois que je vois un complément aussi efficace et les résultats sont vraiment bien visibles. Les cheveux sont plus fort plus long et brillent. De même pour les ongles qui sont renforcés.Merci Madame la Présidente je suis fan.
Résultats dès le 1er mois ! Je me suis enfin lancé suite à une chute capillaire importante.J'ai débuté avec le Résolution N°1 (cure de 3 mois), j'ai pu constater qu'au bout d'un mois je ne perdais plus mes cheveux.
Beauty victory 2022-2023
Resolution n°6 My nutri-active mask is a 3in1 treatment .
Winner of the Victoires de la Beauté in 2023, it nourishes, hydrates and strengthens the hair, from roots to ends . Without sulfates, parabens or silicones, its natural composition and formulation adapt to all hair types.
SOS hair in distress? Here is THE mask you need!